Caterpillar CEO: We're Near Bottom
Invest with Confidence. Are you a financial professional? Stay on top of your portfolio with Benzinga Pro's real-time newsfeed and alerts and never miss a headline again.
Don't miss the chance to try it FREE today.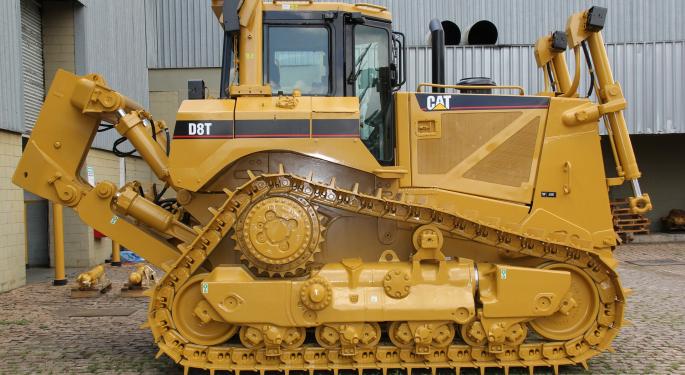 Caterpillar Inc. CAT 0.28% CEO Doug Oberhelman hopes that 2016 is the last down year for the company after a slump in demand led the heavy equipment maker to report lower-than-expected quarterly earnings and cut 2016 earnings outlook.
"We're close to the bottom or bottoming," Oberhelman told CNBC's "Squawk Box."
Caterpillar said that it earned $0.67 per share in the first quarter on revenue of $9.46 billion. Wall Street analysts were expecting the company to earn $0.58 per share on revenue of $9.4 billion.
Related Link: Caterpillar Reports Q1 Beat, But Cuts 2016 Guidance, Shares Dip 2%
The recent uptick in commodity prices, and signs of improvement in construction equipment in China provides some sort of hope for the company, which otherwise saw sales drop in construction, oil and gas, mining and rail sectors.
"[B]etter order activity than we expected at Bauma, the world's leading trade fair for many of the industries we serve. While we are seeing a few positive signals, other parts of our business remain challenged," the company said in a press release.
Oberhelman, too, talked positively on China on the CNBC show.
China And CAT
"We've seen actually an adjustment upwards in China in the first quarter, which is kind of nice. It's the first time we've talked about that in a couple [or] three years."
"China is stimulating and they've added a little debt to their GDP forecast," he said. "We're feeling some of that in large products. Hopefully that will be sustained; something they do throughout the rest of the year."
For the full fiscal year 2016, Caterpillar lowered the high end of its prior sales outlook to a range of $40 billion to $42 billion from a prior range of $40 billion to $42 billion. The company also cut its adjusted earnings per share outlook for the full year to $3.70 from approximately $4. Street expects earnings of $3.59 a share on revenue of $40.61 billion.
The company now sees restructuring costs to be about $550 million in 2016, up $150 million from the previous outlook.
Commenting on the restructuring, Oberhelman said, "We're going to do a little bit more restructuring than we had planned, which is good for the future [...] We'll adjust headcount as necessary. Right not, we're in pretty good shape, I think, for the rest of 2016."
© 2016 Benzinga.com. Benzinga does not provide investment advice. All rights reserved.